Shiatsu Foot & Leg Massager
The foot and calve are one of the most important parts of our body. This kneading And rolling Foot & Calve Massager helps relieve tension and fatigue of your feet with traditional shiatsu and reflexology therapy.
This is the best foot massager out there because...
Adjustable Leg Wrap Size 

- made to fit any and all leg/foot sizes
5 Programmed Massages

- Alternate between 5 pre-programmed massages for total relaxation
4 Intensities 

- try it from the low-level step by step and choose a setting that works best for you for a good experience.
Shiatsu Massage

-​Ancient Chinese healing treatment. Pressure applied to specific points on the body in an attempt to relieve tension and pain.
Air Compression

 - airbags squeezing and massaging thoroughly from calves to toes to relax your foot and calf muscle from lower to upper to relieve fatigue and improve circulation.
Massages Multiple Areas

 - Can Massage your Heel, Toes, Arch, Sole, and calves. 
Specific Targeting

 - Specifically target all areas of your feet through a variety of techniques including pulsing, kneading, and rolling
Remote Control

 - remote controls power, speed, massage directions, and adjusts mode settings easily
Compact and Portable 

- Compact design allows for effortless storage and travel once your massage is complete
Warning

 - If you have any preexisting conditions we recommend you consult with your doctor before using a massage device.
Standard 2-5 Day Shipping via UPS
We do everything we can to ship your orders out as soon as possible. Your satisfaction is our priority and we want to get you your massager as soon as possible. Orders are shipped out the following business day.
All packages are sent via economy or standard service by UPS. Next business day handling, fast delivery!
 Orders on Friday may be processed on following Monday by UPS, according to UPS policy.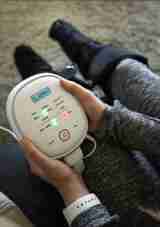 This is amazing!! I get aches all the time from being busy and being on my feet 24/7. The pressure feels instantly released from my legs and feet. I love the way it squeezes and releases. I just got this in the mail today and it came in 1 day, I had the craziest day today and I was so excited to come home and use these, it did not disappoint. Highly recommend to someone who has chronic aching in the legs and feet.
This is a gift from my wife. I am a chef and I stand 10 hours everyday and my legs are hurt all the time. This massager can work on my legs and feet and there are some options you can choose like softer or stronger. I like the air pressure on my legs. After use this machine, I feel much better and very relaxing! I highly recommend this one!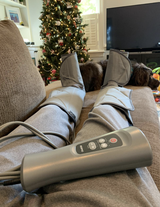 What Frequent Foot & Calf Massage Could do for you
Massages are great for relaxing your muscles by stimulating the blood flow to areas of your feet and legs that have been lacking in oxygen and nutrients. This muscle relaxation can improve flexibility and significantly reduce pain caused by tight muscles.
Yes, massage is a very popular well known pain reliever, but truth is... So many are doing it wrong and missing out on the many benefits that massage can bring.
They are missing out on what the power of FREQUENT Massage could do for their lives. Most go to get a Massage a few times a year. Those with chronic conditions once a week or bi-weekly. Which according to research is still not enough.
To see major results, you would need to experience frequent Massages.
Improves blood circulation:
Due to a sedentary lifestyle, many people don't use their feet muscles properly, thus impeding good blood flow. Also, tight, pointed shoes­–especially high heels–hinder circulation. Ten minutes of foot massage daily helps in transporting oxygen to the body's cells, which is essential for overall health.
Helps in relaxation:
After a tiring and stressful day, a foot massage is a soothing and relaxing way to relax, particularly after a long day of standing and walking around, as the feet tend to swell up. Massage and reflexology of 5 to 10 minutes before going to bed can improve feelings of general well-being.
Promotes better sleep:
The best time to do foot massage is before going to bed. A soothing and relaxing foot massage improves the blood circulation. This helps in getting a peaceful sleep.
Relieves body pains:
This is the best part of reflexology. If done carefully, it treats pains and aches such as headaches, migraines, neck pain, lower and upper backaches.
Improves mood and fights depression:
Foot massage and reflexology helps in fighting depression. Certain points on the feet are helpful in alleviating depression symptoms. Massaging these points or applying pressure to them for a few minutes 2 or 3 times a day can help relieve symptoms of depression.
Makes feet healthier:
One easy way to help keep your feet healthy and free from foot problems is a regular foot massage. It helps stimulate the muscles around your feet, lessens stiffness and even reduces pain in the ankles or the heels. Plus, a short 5-minute foot massage daily will make your ankles strong and flexible, thus preventing unpleasant ankle and foot injuries.
Alleviates swelling (edema)
Regular foot massage during pregnancy can help reduce the effects of edema, which is swelling in the feet and ankles due to fluid retention. This is very common during pregnancy, especially in the last trimester.
Improve Postural Alignment
Leg, hip, and lower back massage can improve postural misalignment and reduce resulting chronic pain, according to a case study conducted and reported by the International Professional School of Bodywork (IPSB). According to the IPSB, distorted posture can lead to shortening of lower back extensors and hip flexors, which in turn causes pain in the lower back, hips and knees.
Relief from Lymphedema
Lymphedema is swelling, usually in the extremities, caused when a condition stops lymphatic fluids from properly circulating through the torso. Lymphedema often occurs after the lymph nodes have been disrupted or removed due to cancer surgery and other medical treatments.