Slabway Has Over 200,000 Happy Customers & Counting!
The eyes are one of the most important parts of our body. This Eye Massager uses vibration, heat compression, pressure therapy and music to help relieve tension and fatigue of the eyes and temples.
This is the best eye massager out there because...
✔️ 3 Modes for Pain Relief - Sleep mode, which uses light air pressure. Medium, uses air pressure with heat and has music capabilities. Hard uses air pressure, heat, vibration and music. 
✔️ 1-Click Control Panel - Uses a clear LCD display which makes it easy to click through different modes. 
✔️ Bluetooth Capabilities - Has a built in speakers to either play your own music or on the Medium & Hard modes you can listen to the built in relaxation soundtrack. 
✔️ Built-In Heat - Heating pads provide a comfortable, steady temperature at 109.4'. This helps with blood circulation, soothes ocular muscles and helps to remove dark circles.
✔️ Portable & Adjustable - Easy to adjust elastic headband to fit all sizes. The lightweight & foldable design makes for easy travel. 
Eye Strain & Headaches are real. 
Health & Wellness for Your Eyes
Too much time on a computer or mobile device can really cause unwanted tension in your head and cause fatigue and stress on your eyes. The same issues can also arise when someone is put under a lot of stress, long-term studies, headaches... you name it... When it hits you, it's hard to focus and carry on with your daily tasks, or worse, have a good nights sleep!
The Slabway Eye massager uses intelligent, microprocessor-controlled air pressure, vibration, point massage and heat compress technology to knead, press and hot compress the forehead and temple area around the eyes. 

Each piece of this massager has been designed with pain relief and relaxation as the key priority.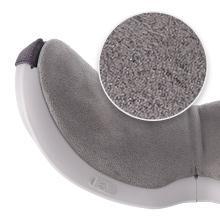 Soft Flannel Fabric
Adopted skin-care material to ensure comfort on your skin. The soft, fluffy cloth touches the fabric and fits the eyes more softly, providing you with a comfortable massage experience.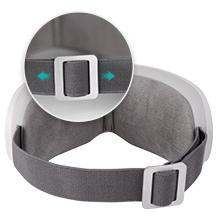 Adjustable Elastic Band
Easy to adjust elastic headband makes it suitable for all head sizes and shapes, while also being easy to clean. Also enables the capability for more or less pressure, depending on your liking.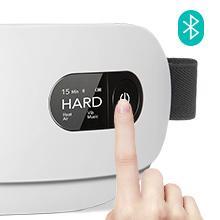 Bluetooth Capabilities
The "MED" and "HARD" modes come with prerecorded music to enhance relaxation. You can even click the power button twice to turn the bluetooth on to connect your phone to play your own playlists.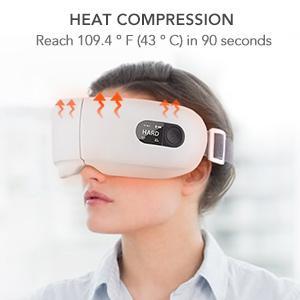 Heat Therapy
Built-in heating pads provide a comfortable temperature, reaching up to 109.4℉ within 90 seconds, and can maintain a constant temperature; Promotes the blood circulation and soothes the ocular muscles, and helps to remove dark circles.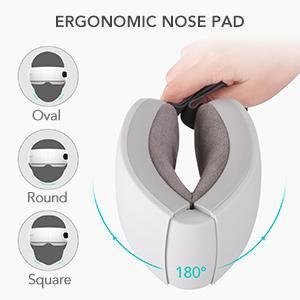 Lightweight & Foldable
The 180' foldable design of this eye massager can ensure that it fits your nose tightly, safely and comfortably; the fit structure can provide better fit with different face types. Lightweight and foldable design make it easy to carry. Use it in your home, school, office and travel.