Welcome To The Slabway Affiliate Program
Join the Slabway Affiliate Program Today!
We Offer:
• 20% Commission on Every Sale
• 30 Day Cookie Duration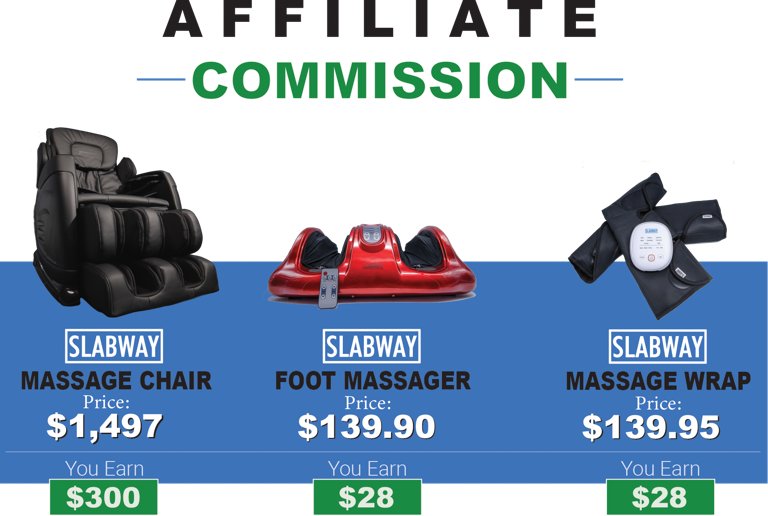 Watch Video For Breakdown
Become a Slabway Affiliate Today
We Offer A High Paying Affiliate Program That Pays $300 Per Sale by sharing your link with anyone!
It is easy to join and requires little technical knowledge to get started
1. Sign up to become an affiliate
2. You'll be taken to your Slabway Affiliate Dashboard, where you will receive your own unique Affiliate Link.
3. Give your Affiliate Link to Customers, Clients, Friends, Family, Etc..
4. You get 20% Commission of every purchase made through your unique link.
5. We will transfer your earnings to your Bank Account or Paypal after the customer has received their product from us.
Slabway values its affiliates and recognizes their ability to share important information. As Slabway continues to build a strong reputation and brand, each affiliate agrees to the following:
Affiliate's top level domains will not contain the following words in any variation: Slabway.
Affiliates will not portray themselves as Slabway or Slabway.com or or anything similar.
Affiliates will not bid on google ad words, bing, yahoo, youtube, or any other form of web traffic that may compete with Slabway in any way.
Slabway does not allow partners to promote via downloadable applications which essentially may steal commissions from another affiliate. We prohibit any parasite companies from earning commissions. Using software that redirects traffic is prohibited by Slabway. This is done to protect our valuable, hardworking affiliates so that they can receive their deserved commissions.
Affiliates agree not to abuse the use of coupon codes by posting them miscellaneously online so that those who are not within their network of influence can use the code. Slabway reserves the right to terminate affiliate relationships at any time due to misconduct relating to coupon codes or misrepresentation of branding as Slabway sees fit.