Acupressure, not to be confused with acupuncture, is a technique that falls under the category of "alternative medicine". 
Despite its "natural" connotations, the efficacy of acupressure isn't diminished by its wholesomeness.
While many sufferers of chronic pain search for solutions, pharmaceutical pain relievers are often the first stop in their quest to a pain-free life, however these non-medicinal natural therapies can be reliable sources of relief of chronic and nagging pain.
  Join us as we indulge your curiosity about the inter working of acupressure, and highlight some impressive ways that it can be beneficial to you.
Here, we define what this technique is, how it works, and we dive into the common ailments that acupressure can help you to manage:
Essentially, acupressure is similar to acupuncture, but without the "pinchy" and painful needles.
Going back to traditional Chinese medicine, acupressure is based on many of their findings.
It is believed that there are pathways of energy that actually flow throughout your body.
  These pathways are called "meridians" and there are fourteen of them that connect all of your organs to all body parts.
There are acupressure points along these meridians that are on these meridians. 
The flow of energy along a meridian is known as a "qi" or "chi". 
If the flow is ever blocked, problems can arise. Through acupressure, pain can be relieved in one area of your body by placing pressure elsewhere. 
How Does Acupressure Work?
Acupressure restores the flow of the "chi".
The specific pressure on a certain part of your body along the meridian promotes the release of a pain reliever that is natural in your body: endorphins.
The endorphins can eliminate your pain. It is also theorized that the specific pressure kicks your autonomic nervous system into action, additionally relieving your pain.
Via acupressure, a signal is sent through your body that ignites the natural pain management and self-healing process in your own body to return it to a state of well-being.

What Does Acupressure Do for the Body?
Acupressure is known to have many beneficial effects on the body, including:
Minimizing a headache

Relaxing joints and muscles
Improving sleep
Reducing or alleviating chronic pain
Relieving stress

Solving digestive problems

What Conditions Does Acupressure Treat? 
Along with the added overall health benefits, acupressure is known to assist in many issues naturally, including:
Pain management
Sleep issues
Pregnancy and labor pains
Nausea and vomiting
How to Administer Acupressure? 
If you seek out a professional acupressure practitioner, the therapist will use their elbows, fingers, palms, or a device to place pressure on certain parts of your body. The general idea is to restore the flow of the "chi".
However, to save money, time, and transportation, you can seek relief on-demand, right in the comfort of your own home with this Acupressure Mat & Pillow Set.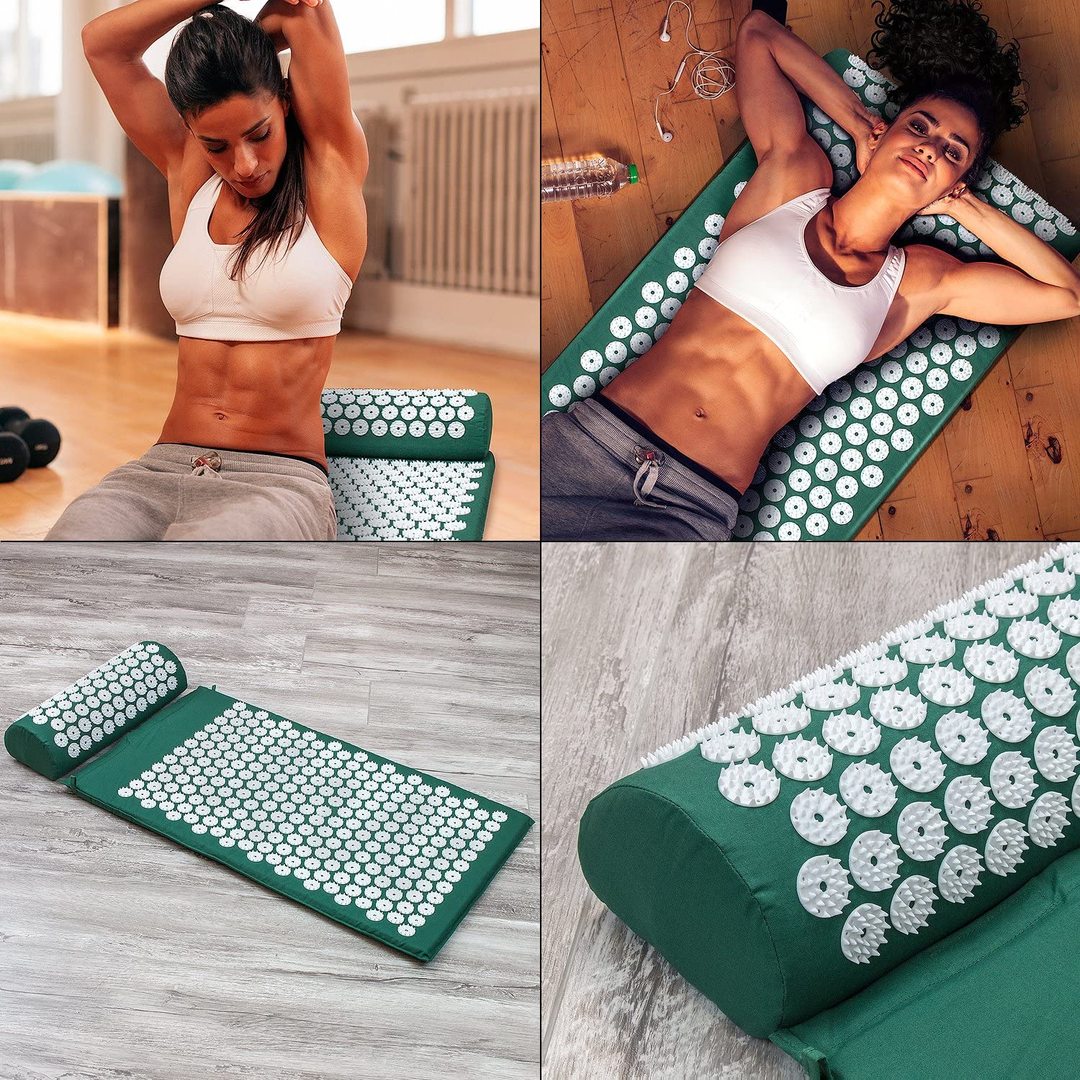 $115.99
$69.89
To reduce and alleviate pain, welcome endorphins, and soothe your muscles, this mat and pillow contains many stimulating points to place pressure in just the right spots along your meridians. 
It is a total revamp from ancient medicine and acupressure studies. For safe, natural, and harmless healing, this set is an essential go-to product for at home or work.
As an added benefit, it is non-toxic and comes along with a removable and washable cover for ease of use and cleaning. Bring acupressure home with you!
 What are the Side Effects of Acupressure?  
Acupressure should deliver only beneficial effects including relief of pain (especially back pain) and assisting in solving complications.
There is, however, a slight chance that some negative effects may take place if too much pressure is applied in the wrong areas. Some negative results could include:
Discomfort

Soreness

Fatigue

Headache
The good news is, that generally you can't overdo it with an acupressure mat, as the weight of your body does all the work and applies the perfect balance of pressure.
Try adjusting your position to get that sweet spot, and your body will rejoice in acupressure bliss. 
Acupressure is an excellent option for natural therapy and pain relief.
Utilizing this natural and holistic approach to solve many health and pain problems, you can alleviate a lot of health concerns and irritation.
Traditional Chinese medicine has a lot to offer, and now we can harness the benefits of this legendary ancestor's wisdom using the Slabway Acupressure Mat & Pillow Set.
It's ideal for use in between acupressure appointments, or to treat yourself in the privacy of your own home or at work.
If you have any questions about this set, you can email us at jane@slabway.com.
Best of luck on your acupressure journey!
Kristina
Slabway Wellness Contributor