Is your favorite fella always the first in line to get his hands on every new gadget, the second it hits the stores? 
We know the struggle of holiday shopping for these tech-savvy guys.

Somehow, they always manage to run rings around us, no matter how knowledgeable we think we are about the specs on new tech toys he's got his eye on!
He's got his finger on the pulse of these modern times, he appreciates the finer things in life... and that means he is almost impossible to buy for!  
But, how often does he line up for some innovative tech that will supercharge his workout gains, speed up his recovery time, help him relax, or relieve his tense muscles?
If your man is stressed out, sore and tired... (and let's be real, whose guy isn't?!)
A tech gift that will cheer up all of his senses couldn't be a better fit! 
Give those personalized snow globes, ugly sweaters and novelty coffee mugs a break this holiday season and get him something he'll
really
use and appreciate for years to come.
Grabbing your guy one of these self-care gifts not only ensures the best, most chilled out version of your significant other, but will also result in a great-looking, healthy body on your hubby to boot. Bonus eye-candy for us? Sounds like a win-win! 

Treat him to a pampering piece of innovation that'll be sure to impress the most modern man on your shopping list, and prepare your Girlfriend/Wife of the Year Award acceptance speech:
6 Innovative Gifts for the Boyfriend or Husband Who Has Everything 
(Just wait till he brags to his buddies about how awesome you did...)
6.  Luxury Shiatsu Full Body Massage Chair

$2,999.99

$1,499.95

We're hard pressed finding anyone who couldn't use a good massage right now- So naturally, this luxurious Shiatsu Massage Chair tops our list. 
It truly decks the halls with its innovative features that will de-stress, relieve tension and rejuvenate his entire body. 
Gift your lucky fellow this ultimate shiatsu and reflexology therapy massage chair, and he'll truly have no doubt whether he's on the naughty or nice list!
5. Spa Shiatsu Foot Massager
$379.99

$139.90

Our idea of the perfect foot massage? One that doesn't finish with an obligation to return the favor! 
Gift this no-strings-attached foot comfort companion for customizable massages on demand. (Because let's face it: Unless you're a masseuse, it'll beat any flimsy foot rub you can offer him!) 
And don't worry, you'll still rake in all those foot rub brownie points, without having to touch any smelly feet. 
4. Cordless Neck Massager with Heat
$102.99
BUY NOW
Neck massage on the go to make your significant other the happiest, most relaxed version of himself ever?
Yes please. 
This lightweight, ergonomic neck massager combines TENS pulse technology with intelligent 4D suspension design. 
The soothing heat and customizable massage modes let your boyfriend or husband enjoy freedom from neck pain, shoulder tiredness and body tension - all in one compact and innovative tech treat. 
3. Cold Therapy Machine
$310.00
Have you heard the buzz surrounding cold exposure and ice therapy yet? 
If your guy is yet to discover the benefits of putting pain on ice, wise him up to this recovery essential every sporty soul will have on their wish list this year. 
Providing cool, soothing relief for post-surgery swelling and inflammation, as well as joint pain and post-workout recovery, the ice therapy machine welcomes users to a new world of relief.
2. Lumbar Support
Cushion Set
$69.99
Having a guy with perfect posture seems more like a dream? This ergonomic lumbar support cushion makes it a wonderful reality. 
When your man sits for long stretches behind the computer, slouched over for hours gaming, or on the road doing a lot of miles, aches and pains are inevitable (which translates to us living with a grumpy bridge troll). 
We're talking chronic back pain, compressed nerves in the lower back, and off-kilter spinal alignment... Not to mention, gorilla-like posture that doesn't do any favors to your fella's silhouette. 
This pressure-relieving, contoured memory foam set instantly transforms any chair into an orthopedic dream come true. 
1. Hot & Cold  Massage Roller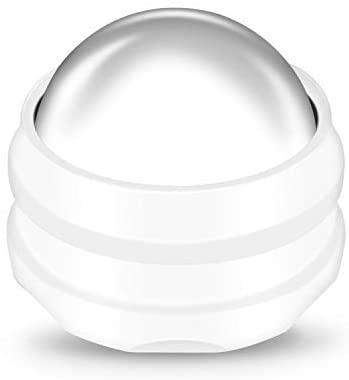 $55.00
buy now
Get that sporty fella in your life back to the workouts he loves most, faster. 
He'll benefit from reduced recovery time, inflammation reduction and loosening up of tight muscles that this nifty and portable massager provides. 
Heat or ice the gel core of this portable deep tissue massage roller ball, for whichever route his post-workout muscle tension and pain management needs require. 
---
And your gift shopping mission for your fella is as simple as that... No more resorting to boring gift certificates or corny custom photo mugs that'll gather dust on his desk. 
Plus, he'll know you really put some effort into choosing a gift that will treat him like a king this holiday season. 
Show your hero just how much he means to you, and get ready to overhear him bragging about what a great wife (or wife-material!) you are to his buddies.
Wishing you a show-stopping holiday season of spoiling each other, 
Fefe

Slabway Wellness Contributor