A Complete Buying Guide to the Slabway Massage Chair
Everyone knows the incredible relief and euphoric relaxation that comes with getting a good massage... 
Yet how often are we realistically able to carve out the time and money to go and get a professional massage at a day spa in our busy lives?
Fortunately, massage chairs are here to change all that!
Enjoying that spa experience and savoring all the pain-relieving and health-boosting benefits of regular massage has now become more accessible, affordable and achievable than ever before. 
Massage chairs have exploded in popularity- and it's really no surprise, due to their plethora of capabilities and their ultimate convenience factor.

What are the Benefits of Having a Massage Chair?
Anyone who suffers from pain, whether it's chronic or acute, can attest to the pleasant reprieve from discomfort that massage provides. 
But aside from simply feeling great, there are some scientifically proven reasons why massage can bring such a sensation of release, and reduce the unpleasant symptoms accompanying many chronic and acute pain issues. 

Here's how owning a massage chair will turn your life around for the better, in more ways than you might expect:

Relieves All Kinds of Pain
Massage relieves all kinds of pain by combining three powerful therapeutic processes that will not only reduce your discomfort, but actually assist your body's healing response. 
It reduces inflammation, increases blood flow and promotes lymphatic drainage. 
By harnessing these three pain-reducing benefits working together, a regular massage session in a full body massage chair can effectively address and heal painful conditions such as: 
...But that's not all it'll help with. 
Massage can help with many other painful afflictions, and even get your body well underway on your healing process. 
We'll touch more on those "sore points" shortly... 
The Surprising Benefits of Using a Massage Chair
Believe it or not, the bonuses of using a massage chair extend far beyond the obvious "relaxation factor" that comes with any massage experience. 
Treating your body to a daily massage also comes with a host of surprising health benefits too!

Using a massage chair also: 

Increases blood circulation
Promotes lymphatic drainage
Lowers blood pressure 
Reduces anxiety & stress 
Boosts the immune system

Assists in improving posture
Increases muscle flexibility
Encourages healthy digestion
Releases feel-good hormones
Helps you sleep better
24/7 Massage Without the Hassle
Carving out time in our busy schedules for self-care is a challenge at the best of times. 
If you're anything like us, you'll know that in order to keep up with these busy modern days, you've gotta grab that you-time whenever you can get it! 
Scheduling an indulgent, unhurried trip to the day spa has sadly become a luxury reserved exclusively for special occasions.

Yet, the importance of regularly finding that chill time to hit the pause button on life, be pampered, and recharge our batteries is undeniably necessary to stay happy and vibrant.
If finding time for a trip to the massage therapist keeps getting pushed to the bottom of your priority list, owning a massage chair offers you an opportunity to claim back all those precious moments to recharge that crop up over the course of your day. 
On-demand massage sessions become available at the press of a button, right in the comfort of your own living room when you own a massage chair! 
The convenience and accessibility of having a full body shiatsu massage (without the hefty price tag or time constraints that come with a visit to the day spa) make owning a home massage chair a seriously good investment.
Why the Slabway Massage Chair is the Best Out There
Creating the best massage chairs to bring much-needed comfort into the lives of many who need it was a job that Slabway didn't take lightly.
During the design process of this premium quality massage chair model, no detail was overlooked. 
Unlike many other home massage chairs on the market that often sacrifice features or quality workmanship in order to keep the cost down... 
Slabway decided to do things a little differently. 
Conceptualizing the perfect formula for the best massage chair only started with state of the art massage technology...
Next, we incorporated these intuitive features into a comfortable reclining massage chair... 
And finally, we put logistics systems in place to reduce unnecessary costs.
The perfect home massage chair was born. 
This allows us to pass the savings onto you, opening up the possibility for everyone to own this superior massage chair. 
Combining all of these powerfully effective, high quality features at an affordable price point unquestionably makes Slabway the all-round best home massage chair.
But don't just take our word for it... 

Check out these 14 Reasons Why Ours is the Best Massage Chair Out There:

When we say "Full Body Massage"... 
We really mean it.
Your entire body benefits from the massage techniques on offer from this shiatsu chair. 
Contoured arm and leg slots, strategically placed airbags, and the innovative smart rollers ensure that no tight muscle group on your body is left out. 
The Slabway Massage Chair effectively massages your:

If you can think of anywhere else on your body we missed, we're all ears! 

In this revolutionary full-body massage chair, you'll even enjoy a tension-melting foot massage to rival the type you get at your favorite foot spa...  
13. Uses Traditional Shiatsu & Reflexology Therapy & Techniques
Our true Shiatsu massage chairs were inspired by the ancient therapies of Shiatsu and Reflexology. 
These body work techniques apply targeted compression to specific pressure points of the body, accessing meridians through which we can achieve reciprocal benefits. 
Combining these two time-honored concepts in our massage chair's functions has proven to be a highly effective pain relief strategy. 
The specially designed massage nodes are strategically located to hit all your acupressure points too!  
The Slabway Massage Chair's customizable massage settings include:

 Rolling 
 Kneading 
 Tapping 
 Shiatsu 
  Gripping
Our massage chairs do more than simply give you a relaxing rub-down; 
They provide the best results because it most accurately mimics the human touch of hand-applied shiatsu technique.
12. Built-In Heat Therapy System
Slabway massage chairs get right to the root of your muscle tension, pain and stubborn knots, thanks to the added power of heat therapy. 
They mimic the soothing, reassuring warmth of a hot stone massage, relaxing your body and comforting your senses.
Heated massage not only relaxes tight, tense muscles, but it allows for an optimized deep tissue massage.
The gentle, targeted heat loosens up key groups of muscles in your lower back and feet, increasing blood flow and allowing the maximum benefits of the massage to be achieved.  
11.  Fully Automatic Zero Gravity Reclining
The soothing sensation of floating in weightless comfort is no longer reserved just for astronauts or somebody braving a session in a sensory deprivation tank! 
Discover the bliss of zero gravity massage in the Slabway Massage Chair and you'll see exactly what we're talking about...
This full body zero gravity massage chair autonomously reclines to provide the best type of massage experience possible, with the zero gravity position giving your neck and back muscles a chance to stretch out. 
It also allows your body to melt into the chair, providing the most effective zero gravity shiatsu results. 
Zero gravity positions are incredibly restorative for our cardiovascular fitness too.
By elevating your legs higher than heart level, healthy circulation is increased, which helps to reduce swelling as well as minimizing stress on your heart.
10. High Power Vibration & Rolling Balls 
Every part of your body will be kneaded, tapped, vibrated, and rolled into muscle-tension-melting relief on these cleverly engineered massage chairs. 
Pleasant vibrations paired with rhythmic rolling balls and heat help to shimmy out tension in muscles. 
This invigorating stimulation also encourages the release of endorphins in the brain, flooding your body with happy hormones that give you an overall feeling of easy wellbeing.

9. ​Easy to Use Control Panel
We took seamless operation one step further with our nifty user-friendly control panel. 
The remote control is located within easy reach right next to the arm rest of the recliner, meaning easy access during your spa-like massage sessions should you like to make any adjustments. 
Unlike other high end massage chairs on the market, with Slabway you don't need an engineering degree just to turn the thing on.
The control panel is simple to navigate, with a crystal clear, easy-to-see display. 
The large buttons and no-nonsense quick start menu options round out the simplicity, making it perfect for all ages and mobility levels. 
8. There's 42 Fatigue-Relieving Air Bags
Yep, you read that right… This tricked-out massage recliner chair offers no less than 42 airbags to massage your tense, tired muscles into submission. 
Achy, fatigued bodies will feel light as a feather as the targeted airbag sections sequentially inflate and deflate, providing a stimulating compression massage. 
Placed in key positions to massage the shoulders, forearms, hips, thighs, calves and feet; the intuitive airbag sequence promotes healthy blood circulation and lymphatic drainage
Combined with the zero gravity feature, this massage recliner will revitalize your entire body.
Muscles feel energized and invigorated with this technique, and your whole body benefits from the fresh, oxygenated blood flowing through your veins, banishing sluggish tension.
7. Multiple Adjustable Pre-Programmed Massage Techniques
Customization is key when it comes to your perfect massage, and the Slabway massage chair puts you right in the director's chair.  
With several types of massage presets and predefined auto programs, you can enjoy your ideal customization and type of massage at the touch of a button. 
Keep coming back to your favorite go-to setting, or easily work up or down from different intensity levels, or depth and speed levels.
Keep in mind, this feature is especially important for those who are sensitive to firm pressure, or for those experiencing pain that's intensified by touch.
Customizable to your unique needs, you can tailor the ideal massage session for all your sore spots, and zoom in the focus on where your muscles hold the most tension.
Slabway's proprietary Smart Roller System allows for the perfect pressure to be applied in all the right places, and nowhere it's not.
Because bodies come in all different shapes and sizes, having intuitive massage rollers are a necessary feature to ensure a comfortable and pleasurable massage therapy experience.

Our flexible smart rollers conform to your specific contour and shape, meaning consistent pressure, no matter the curve of your spine or the angle of your joints.
There's no poking or prodding here, as the pressure sensors allow the massage rollers to move seamlessly and fluidly over your body's contours. 
This feature ensures your massage feels just like the palms of a masseuse's hands, rather than a balled fist.
5. Easy Setup - IT ARRIVES MOSTLY ASSEMBLED! 
Unlike competitor's massage chairs that come in millions of parts and give you an unpleasant surprise on delivery day, Slabway massage chairs won't give you a headache to set up.
We know that once your massage chair recliner arrives, you'll want to jump in and enjoy it straight away!
Plus, many folks who buy a massage chair are dealing with chronic lower back pain or mobility issues, so we made sure no heavy lifting is required. 
We save you the stress of a complicated set up and a ton of loose parts you have to spend hours putting together, as our massage chairs come mostly assembled.

Simply screw in the shoulder pieces, connect the remote control, plug into your wall outlet and it's time to relax in your new massage chair recliner!

Your Slabway massage chair's compact, fully-integrated design means they're streamlined and space saving too, so your new recliner isn't the type to take up half of your living room space.
We're so confident that ours are the best massage chairs, that we cover all of our orders with a Money Back Guarantee. 
Your new Slabway Massage Chair is protected by a no-questions asked, 100% satisfaction guarantee. 
If you're not impressed, simply send it back for a refund! No Hassles, No Questions.
3. ​Try it Out for a Whole Year
If only all relationships were this easy… This no-strings-attached chair even comes with a 365 day trial period. 
We want to make sure we're living up to our end of the deal, so if you don't still absolutely love it within 1 year of purchasing, simply return it for a refund. 
Try it out in your home for a full year: Put it to the test and make sure it's what your massage dreams are made of. 
Get to know your Slabway Massage Chair and what it can do for you.  
If it doesn't do everything we said it would, or you're unsatisfied or not content for any reason, just return it. You'll get your money back, no questions asked.  
That's how sure we are that it'll be your perfect match!
2. We're an American-Owned Company in Utah
Our proudly United States owned and based company is right here in American Fork, Utah. 
We're 100% real people, with a team of 53 passionate locals here to assist you every step of the way.
When you pick up the phone, you'll actually talk to one of us here at Slabway Headquarters. 
We pride ourselves on being a truly American company you can count on, so you'll never get redirected to some 800 number routed to a foreign customer service call center. 
Give us a buzz or shoot us a text (Mon-Fri 9am-5pm MST) or send us an email and we'll be happy to help you out!
Another bonus of buying local: As our warehouse is located just 30 miles south of Salt Lake City, that means fast, free shipping for everyone.  
So you can enjoy massage relief within 1-6 days of ordering, depending which side of the country you live.
Slabway was created on the firm belief that incredible health should never be out of reach for Americans. 
Let's take a look at the facts:
Our Slabway Shiatsu Massage Chair does everything the similar chairs with a $5,000+ price tag do. 
They're made with superior craftsmanship and premium quality materials. 
Yet, we sell them for a fraction of the cost...
So, how is it that we're able to offer such a premium quality, high end massage chair at this affordable price point?
Well, it all simmers down to the fact that comparative massage chairs cost so much money because they were NOT made to move in an online world. 
They're transported from factory to factory; from big warehouses to smaller warehouses; from showrooms to retail stores; and then finally to you. 
We, however, go straight from our warehouse to you!
Cutting out the middle men allows us to save serious dough, and then we pass the savings on to you. 
It's win-win, and we couldn't be happier to provide this incredible massage solution to you... At a price that'll make you question what exactly all those other massage chair retailers are playing at!
To further show you that we're really not messing around: For a limited time, you can take an additional 50% off the price of this awesome chair. And while we're at it, we'll even throw in free shipping, just to put an extra cherry on top. 

...Still having trouble justifying the expense? 
You sure look like you could use somebody cutting you a break (and a good massage)!
We've got you. 
We believe everybody should have access to the pain relief, relaxation and health benefits of daily massage - no matter their financial footing. 

Let's be real here: When money is tight, stress usually follows- and that's exactly when your body needs a massage the most. 
As of our way of showing you we've got your back, we've rolled out the new:
We know you're good for it... 
Plus, we'll even ship your chair to you straight away, so you won't have to wait around until you pay it off in full before you get to enjoy it.
Even if you go for the payment plan option, we're still happy to give you a discounted rate of 47%, plus we'll throw in the fast free shipping to boot. 
We want to make sure all our fellow Americans are as happy, healthy and content as can be. 

While these types of massage chairs are an investment, they're also an investment to your health. And we've never heard of a cause more important than that to support. 
So, we're doing our part to help the Slabway Massage Chair get into all the homes that need it most.

Compare it to any competitor's Shiatsu Massage Chair, and you'll see that the features of our Slabway Full Body Massage Chair make this model not just step up to the task; but well and truly take the cake as the best massage chairs out there.
With our 100% satisfaction guarantee, there's really no risk in trying one out for yourself.
We're up to the challenge... So put us to the test and you'll see that these are indeed the best massage chairs you can get for your money.
Check out these massage chair reviews from some of our happy customers...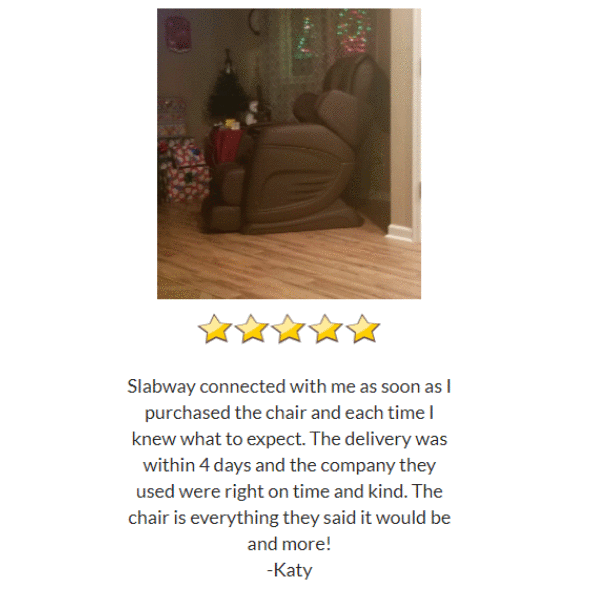 ...And catch a glimpse into the bliss that's right around the corner for you when you become a proud owner of one of our luxurious massage chairs in your home!
Please reach out to us if you have any other questions about the Slabway Massage Chair and the benefits it will bring into your world! 
Wishing you the best in massage chair happiness,   
Fefe

Self-Proclaimed Massage Aficionado